In the city of Vancouver, experience a taste of Switzerland's rich culinary culture at Fondue Vancouver. Picture yourself entertaining a group of close friends or family in the comfortable and familiar environment of your own home. Imagine the comforting, enticing aroma of fine, melted cheese wafting through your dwelling as you stir the pot of melting fondue, preparing to immerse a morsel of bread into its creamy depths.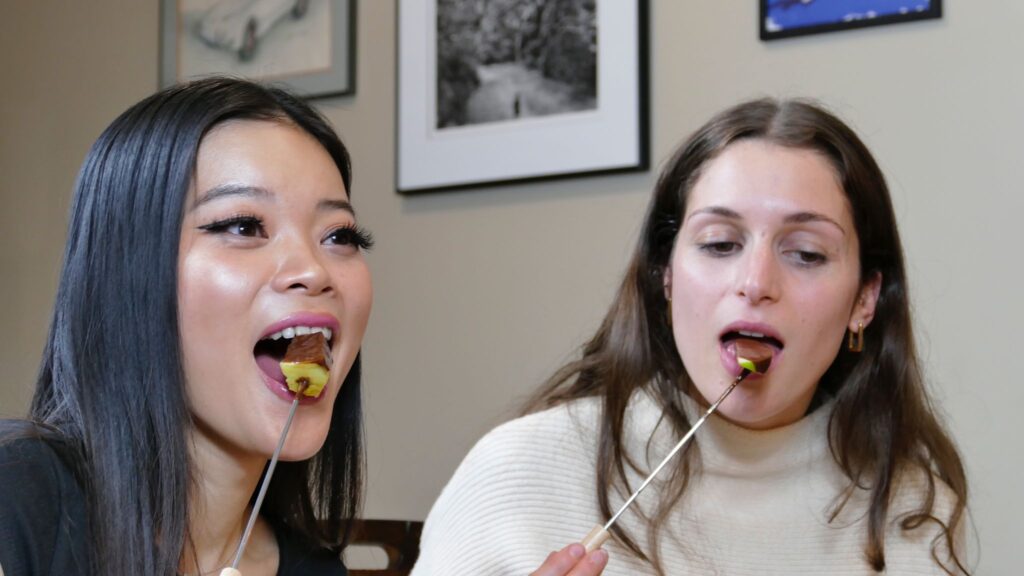 Fondue Vancouver transplants the quintessential Swiss tradition of a fondue night onto your local setting. This delightful melting pot of taste can be experienced right at the comfort of your own living room. Setting the perfect ambiance for an evening so memorable, it will be etched in the heart of every guest.
Our service is not merely about delivering cheese fondue to your home; it's about creating an unforgettable experience with your friends. 
It extends beyond the walls of your kitchen, melting the barriers between host and guest as everyone comes together. The experiences we curate are steeped in tradition and perfected in taste, assuring elements of surprise and delight.
With our cheese fondue delivery service, we take nostalgic homage to the Swiss culinary scene. Revisiting the time-honored ritual of gathering loved ones to revel in the pure decadence of perfectly melted cheese. Our fondue sets are specially designed to be simple and user-friendly, keeping the essence of this tradition alive.
Upon its timely arrival, the allure of the fondue set naturally unfurls,  summoning everyone to the table to participate in a fondue feast. The anticipation of the first dip, the conversation that spins around the finger trails of cheese. The laughter that fills the air with a warm, cozy, and heartfelt ambiance that even the best restaurants cannot replicate. 
And so, all that you need to do is summon your friends and family, prepare to create an intimate atmosphere. Relish every rich, velvety, mouth-watering dip of your Fondue Night at Home. With Fondue Vancouver, every gathering becomes a delicious culinary journey to Switzerland. The scrumptious blend of cheese and the simple act of dipping bread into the pot to create magical moment
Our service is an invitation to fostering deep connections over shared pots of cheese. An uncommon culinary experience, and an adventure that adds charm to regular home dining. We urge you to join the revelry, divvy up pieces of bread, skewer them onto fondue forks. Allowing the evening to take its delicious course. Each gathering with Fondue Vancouver becomes an immersive experience where a simple meal transforms into a cherished memory.
So, gather your favorite people, let us bring you the nostalgic taste of Switzerland. Get ready to relish the gooey and comforting goodness of fondue, and make cherished memories with Fondue Vancouver. The unforgettable experience we offer, bonding over a communal pot and savoring every delightful bite of the mountain cheese. Welcome to the world of Fondue Vancouver, where every night is a fondue night.
Are you looking for a unique and delicious way to spruce up your game night? Look no further than Fondue Vancouver "Game Of Fondue"
With its easy and convenient delivery service, Fondue Vancouver brings the joy of fondue, a Swiss dish. Traditionally made with melted cheese, to your doorstep. Whether hosting a party with friends or simply looking for a cozy meal at home, Fondue Vancouver's cheese fondue delivery offers the perfect opportunity to savor the flavor.
Fondue Vancouver's cheese fondue is a delectable blend of cheese that is paired with freshly cut bread, vegetables, and more. Plus, the brand's easy-to-use fondue set ensures that the cheese stays warm and gooey throughout your meal.
Fondue Vancouver's delivery service isn't just focused on providing customers with delicious fondue. It also offers an exciting and interactive game night experience. The "Game of Fondue" is a unique feature of the brand, adding a social element to fondue parties. When an item is dropped into the fondue set, a category and number are selected, and a fun question or task is read out loud. Participants answer or execute the task and the evening continues with everyone having a great time.
Not only does Fondue Vancouver offer cheese fondue, but it also offers dairy-free options and luscious chocolate fondue for a sweet finish to your meal. Fondue Vancouver delivery service covers Vancouver, North Vancouver, West Vancouver, and all surrounding areas. With its easy ordering and delivery services, customer service is top-notch. We are committed to ensuring that hosting is simple and enjoyable, allowing customers to experience the delight of fondue and wine without the hassle of preparing everything yourself.
Fondue Vancouver: Crafting the Ultimate Fondue Experience
At Fondue Vancouver, pleasure, simplicity, and taste are at the heart of everything we do. Our aim is to make every component of your fondue night absolutely comfortable and enjoyable. The centrepiece of our service lies in delivering fresh, mouth-watering cheese fondue right to your home. This isn't just any cheese, but authentic, imported Swiss cheeses. 
They are prepared meticulously, and expertly melted to achieve that fondue aficionados have come to love. This ensures that you and your friends can relish the pleasures of a fondue meal. All within the comfortable and familiar setting of your own residence.
Taking culinary artistry a step further, Fondue Vancouver presents a meticulously curated menu that caters to a broad spectrum of preferences and tastes. This extends well beyond the borders of classic cheese fondue, venturing into the heavenly terrain of chocolate fondue, among others. Picture the sumptuous scenario: Savouring decadent melted Swiss chocolate, with its exquisite creamy texture wrapping delightfully around well-paired dippers.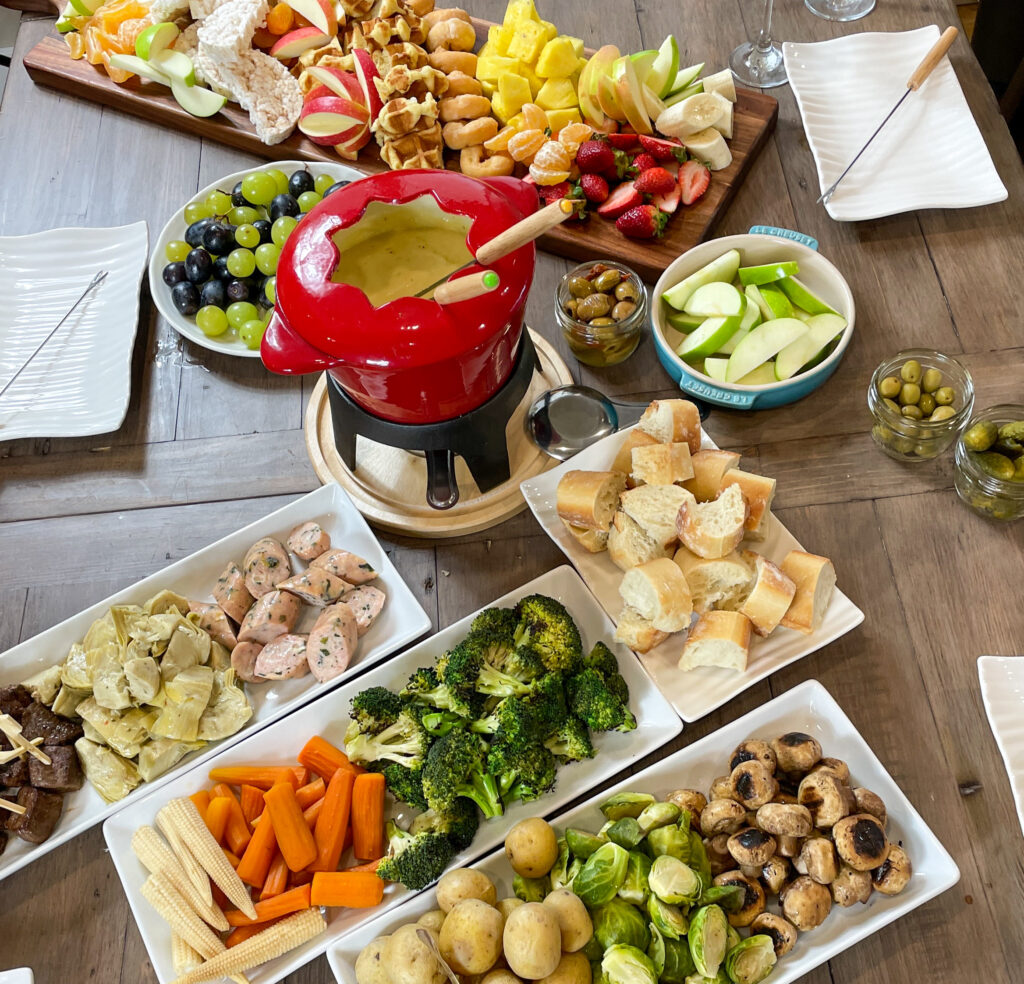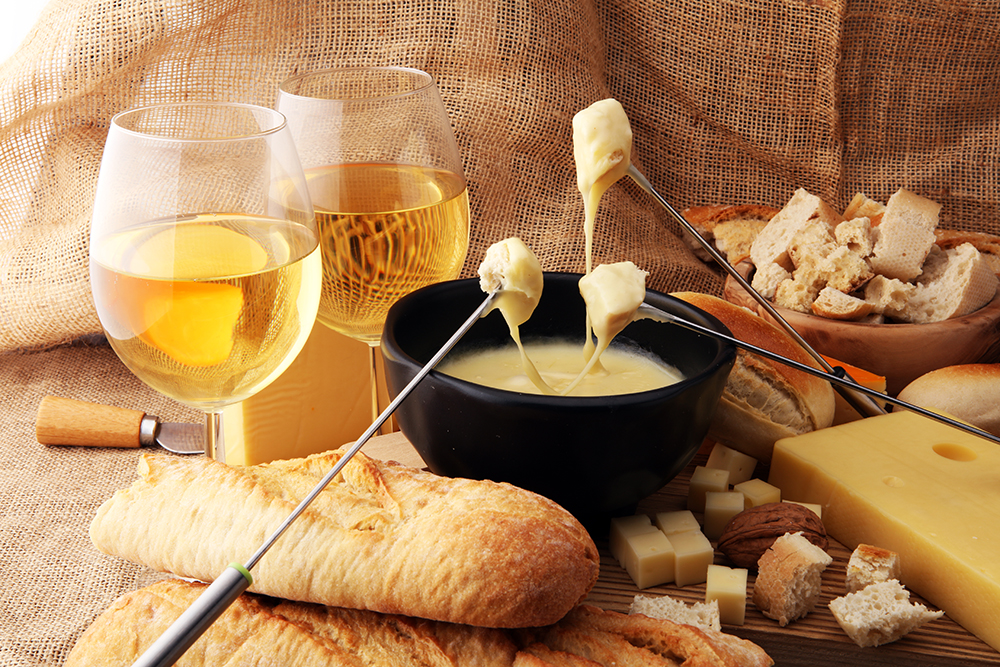 Feast For The Senses

The emphasis on tailored, personal culinary experiences continues further. Drawing on the tradition of fondue being a communal meal, shared and enjoyed in a collective group. The accompaniments range from freshly cut crusty bread – perfect for absorbing the creamy cheese. These dippers serve a greater role than simply being dip-worthy.
In essence, Fondue Vancouver aspires to be more than a delivery service. We aim to be your immersive partner for the perfect fondue night. We promise the joy of shared feasting, and the absolute comfort of stress-free, home-based gatherings. All that's left is to charm your guests with a delightful evening, while we take care of the rest.
So, ready yourself for the precious memories that cheese pulls spontaneously. The laughs that dance around the fondue pot, and for stories that are spun into the night. Allow us to join forces with you, curating an evening characterized by tradition, taste, socializing. And as the Swiss would say, 'Gemütlichkeit' – the warm, joyful moment of gathering around a pot of fondue
Creating the Perfect Fondue Night Ambiance with Friends
Crafting your memorable and luxurious fondue night does not stop at our top-tier Cheese Fondue or our gourmet menu. We believe that an extraordinary fondue experience also greatly leans on the authenticity and quality of your fondue serving accessories. To ensure you immerse yourself and your guests fully in the cherished Swiss tradition, Fondue Vancouver provides an extensive range of exquisite, easy-to-use fondue sets.
Each Fondue Vancouver set includes high-quality fondue pots, burners, and forks. Every quintessential item needed to recreate an authentic fondue evening. Our fondue pots aren't just any pots: they are carefully designed to ensure that it maintains its optimal temperature, texture throughout your gathering. There's nothing more inviting than a pot of creamy fondue that stays velvety, warm, and inviting from the moment your guests arrive until the last lingering dip of a lauded evening.
The fondue burners live up to the same standards of quality, ensuring that your fondue remains at a perfect simmer. This continuous gentle heat lets your fondue maintain its delicious taste and consistency, without the risk of getting scorched or cold. Each treasured piece in the set contributes to keeping the fondue experience as seamless and enjoyable as possible. Allowing hosts like you the luxury of mingling and savoring the experience rather than fretting over the technical details.
Our fondue forks, paired perfectly with the sets, are designed with both functionality and safety in mind. They serve as the ideal tool for guests to safely immerse their chosen dippers into the pot of bubbling cheese. Ensuring every journey from pot to mouth is smooth and blissful.
Dining Experience
The visual aesthetics of our sets aren't left to chance either. We acknowledge that our fondue sets should integrate seamlessly into the existing decor of your home. Hence, we provide an assortment of designs, ranging from classic to modern, to match your unique aesthetic preferences. Whether you love the timeless appeal of traditional fondue sets or favour a more contemporary design, Fondue Vancouver has you covered.
To sum it up, our mission is to assemble the ideal fondue night setup for you and your friends, where convenience meets sophistication. Relishing the fondue becomes more than just a culinary routine. It becomes an indulgent ritual, drawing warmth from the cheese and richness from the company.
Dazzle Your Palate with the Perfect Fondue Pairings
Though the cheese fondue undoubtedly claims the spotlight during your Fondue Night at Home. The beauty of this Swiss tradition lies in its accompaniments' harmonious symphony. Enhancing your cheese fondue experience is about creating an artful combination of tastes, textures, and flavours.
When it comes to pairing with your luxuriously melted cheese fondue, variety is key. The go-to choice, of course, is the good old crusty bread—its crispy exterior and soft innards providing the perfect carriage for the velvety cheese. However, Fondue Vancouver encourages you to step beyond the standard and to experiment with a wider array of dippers. Crunchy vegetables such as bell peppers, baby carrots, and cherry tomatoes. Introduce a refreshing crunch and subtle sweetness, making them an excellent counterpoint to the creamy richness of the cheese fondue. Boiled potatoes, with their tender texture offer yet another delightful pairing, soaking up the cheese for a comforting mouthful.
Fondue Night At Home
But why stop at the basics? Elevate your Fondue Night at Home by providing your guests with more than just typical dippers. Compliment your main fondue spread with an offering of a crisp, side salad. A palate cleanser that cuts through the cheese's decadence, leaving your taste buds refreshed for the next round of dipping. Feature bowls of marinated olives that bring a briny zest, pairing superbly with the rich cheese while also enhancing the overall culinary journey.
And let's not forget the staple of any great Swiss meal—charcuterie. A selection of high-quality cured meats such as salami, prosciutto, or ham complements the cheese fondue while adding further depth to its taste and increasing the range of dining pleasures. The possibilities are practically endless, limited only by your imagination and your guests' preferences.
Once you have set up your perfect spread courtesy of Fondue Vancouver, appease your guests' appetite with this flavourful assortment, creating moments of delectable discovery with every new combination they try.
All in all, Fondue Vancouver's goal is not only to deliver a truly authentic Swiss fondue experience but also to let you discover new taste sensations. Every satisfying crunch of a vegetable, every delicious bite of crusty bread, and every delightful pairing with your cheese fondue becomes a note in the symphony of your Fondue Night at Home—a symphony of shared flavours, heartwarming laughs, and unforgettable memories.
So prepare your home, invite your friends, and let Fondue Vancouver guide you to create an atmosphere as inviting, satisfying, and comforting as the cheese fondue itself.
Bringing Fondue Night to Life: Games, Conversations, and Laughter
As the host of your Fondue Night at Home, you have the delightful opportunity to tailor this social aspect to match the personality of your gathering. This can start with something as simple yet fundamental as introducing classic fondue etiquette and lore to your friends.
Fondue Tradition
For example, one longstanding tradition suggests that if a guest drops their bread into the fondue pot, they are expected to sing a song as a playful consequence. This light-hearted folklore not only educates your guests about the rich history interwoven with the fondue tradition but also adds a dash of fun and spontaneity to the evening. It transforms your fondue night from a passive meal into an interactive, joyous occasion.
However, why limit the engagement at just that? Fondue Vancouver goes a step further to make your fondue nights more engaging and entertaining with the introduction of our signature Game of Fondue. This unique social game injects an additional layer of interaction and delight into the gathering, ensuring that the evening is brimming with memorable moments that extend far beyond the culinary experience. As your guests savour each delectable morsel of cheese-dipped delight, the Game of Fondue enthrals them with a blend of jovial challenges, witty questions, and entertaining activities that spark laughter and spirited conversations.
At Fondue Vancouver, we hold firm to the belief that an amazing fondue night is as much about the gastronomic journey as it is about the joyous communal experience. From enlightening your guests with fondue lore to engaging them in our signature Game of Fondue, we aim to provide you with tools for your guests to create shared memories. After all, good food paired with great company, accented with heartwarming laughter and embraced in a blanket of nostalgia, is the recipe for an unforgettable fondue evening. Embrace this blend of culinary and social traditions with Fondue Vancouver, and let us create an enchanting fondue night that warms your home, your heart, and your soul.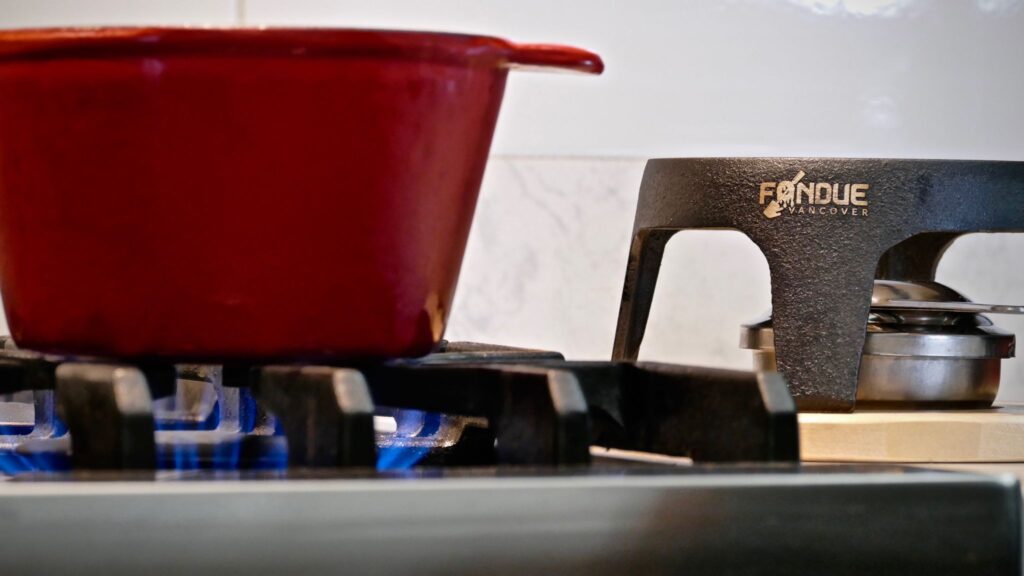 Conclusion
A Fondue Night at Home is so much more than just a meal – it's an opportunity to create lasting memories with the people you care about most. Fondue Vancouver invites you to experience the joy of a traditional Swiss fondue night, effortlessly delivered right to your home. With our cheese fondue delivery service, easy-to-use fondue sets, and commitment to quality, all that's left to do is gather your closest friends and family for an evening of delectable indulgence, warmth, and togetherness, redefining what it means to host a truly memorable Fondue Night at Home.