Picture a chilled winter evening unfolding into an infectious mirth of warm smiles, luscious melting cheese, and velvety chocolate — all starring in a delightful theater of your own making. Yes, that's the spellbinding allure of Fondue Night, curated perfectly to add an exciting twist to your ordinary evenings. Fondue nights have become the epitome of sophisticated lounging, serving as an interactive dining experience that will spice up your routine at home. Originating from the towering Alpine peaks, fondue is more than a meal; it's an intimate, communal activity that creates lasting memories. With a perfect blend of a rich, versatile menu and an engaging dining style, fondue nights offer an exhilarating alternative to typical meals.
What sets a fondue night apart from other dining experiences is its inherent nature of togetherness. Ergo, it's no surprise they are favorite go-to Romantic Date Nights for many couples. This isn't just about feeding your body, but rather, it's about feeding your soul with love, laughter, and good company. The Action of swirling bits of bread or fruit in a shared pot encourages mingling, leading to those heart-to-heart conversations.
Furthermore, fondue nights also serve as great Date Night, offering the perfect setting for friends or family to bond. The set-up requires everyone to participate, which contributes to a greater sense of intimacy and camaraderie. The narratives formed around the fondue pot, combined with its enticing flavors, create a unique experience that is both heartwarming and comforting. Now that you've grasped the essence of why a fondue night can be a truly special experience, it is time to take it a notch higher. How about hosting your own fondue night at home? Excited yet
An In-depth Guide to Choosing Your Fondue Ingredients
The key to hosting an unforgettable fondue night at home lies in carefully selecting high-quality and varied ingredients. To truly make the experience magical, you need to strike the right balance between savory and sweet, catering to diverse palettes. In this section, we'll discuss the essential ingredients for both cheese and chocolate fondue and provide you with tips for making your selections like a pro.
Cheese Fondue
A classic cheese fondue requires a special blend of cheese, white wine or beer, and various spices. When selecting a cheese, aim to mix two or more varieties to create a complex, satisfying taste. Common combinations include:
Gruyere and Emmental: Offering a classic Swiss fondue experience, both cheeses blend perfectly together, resulting in a velvety-smooth texture and a distinctive, nutty flavor.
Fontina and Gouda: Combining the creamy, buttery Fontina with the rich, slightly sweet Gouda creates a mild, well-rounded fondue that will appeal to a wide range of taste buds.
While these pairings offer tried-and-true options, don't be afraid to experiment with other cheeses that you may prefer. Just keep in mind that you should select cheeses that melt easily and complement each other in taste and texture. To achieve a silky mixture, your cheese blend should be combined with a liquid, such as dry white wine, which adds acidity and counteracts the cheese's richness. Make sure to choose a wine with decent quality, since its flavor will contribute greatly to the final taste of your fondue. Alternatively, beer can also be used to create a delicious, robust cheese fondue.
Chocolate Fondue
For your chocolate fondue, quality is paramount. Steer clear of low-quality chocolate or chocolate chips, opting for a premium, melting chocolate instead. A classic chocolate fondue can be prepared with a mix of dark, milk, and semi-sweet chocolate. For a more intense flavor, you can also experiment with using just bittersweet chocolate. To create a creamy consistency, the chocolate should be melted with heavy cream and, optionally, enhanced with a hint of liqueur, such as brandy, Cointreau, or Kahlua. If preferred, the liqueur can be replaced with a mild-flavored oil, such as coconut or canola
To round out your fondue night, don't forget about the dipping accompaniments. For cheese fondue, offer an assortment of crusty bread, pretzels, roasted potatoes, steamed broccoli, and cut-up apples. For the chocolate fondue, provide a mix of fresh fruits like strawberries, bananas, pineapple, and raspberries, as well as sweet additions like marshmallows, brownie bites, and biscotti. With your array of delicious ingredients at the ready, you may be wondering, how do I actually prepare my fondue? That's what we'll dive into next, ensuring that your fondue nights experience at home is nothing short of magical.
Fondue Preparation – Do's and Don'ts
As much as selection of high-quality ingredients plays an essential role in your fondue, the art of preparation is what creates the magic. Preparing the fondue is an intricate process that demands attention to detail and careful execution. However, with our handy guide tackling the do's and don'ts of fondue prep, you'll be serving up a creamy, lump-free end result that your guests will rave about.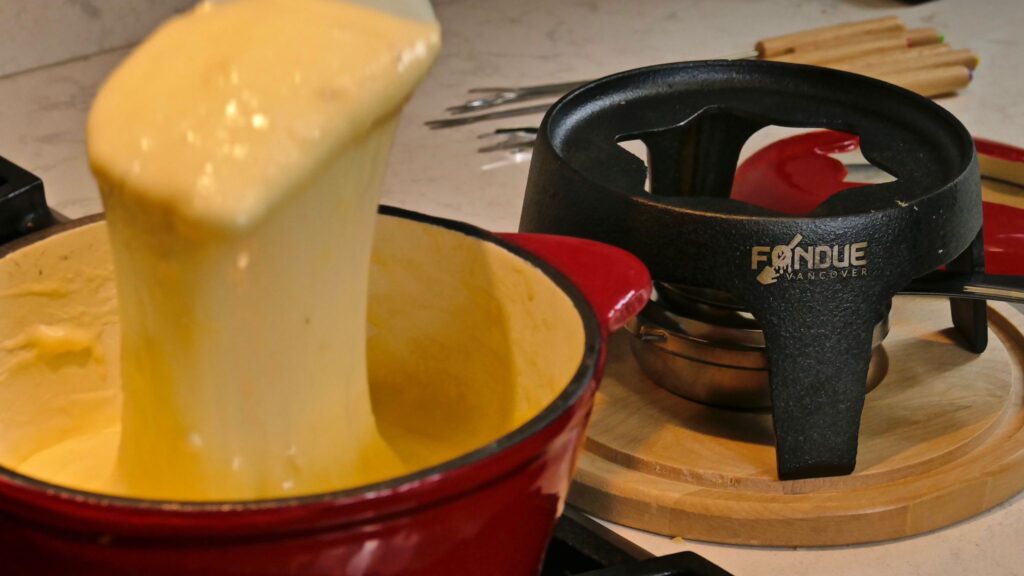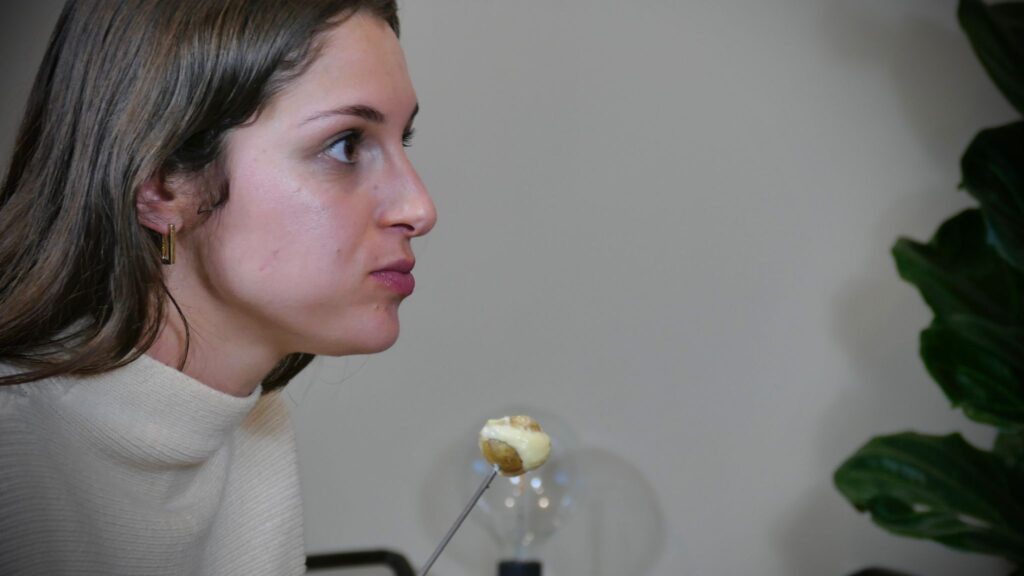 Cheese Fondue
Step 1: Start by rubbing a cut garlic clove along the sides and bottom of your fondue pot. The heat after step 3 will warm and release the garlic oils adding a subtle hint of flavour.
Step 2: In a separate pot, gently heat the chosen liquid until it's just below simmering point.
Step 3: This is where the cheese comes in. Gradually start adding the chosen blend of cheese to the warm liquid, continuously stirring until each addition is thoroughly melted before adding more.
Step 4: Add in spices of your liking — nutmeg, pepper, or mustard powder are great additions — for extra depth of flavor.
Before hosting the event, it would be wise to practice your own cheese fondue preparation to know how the ingredients interact and to customize the recipe to your liking.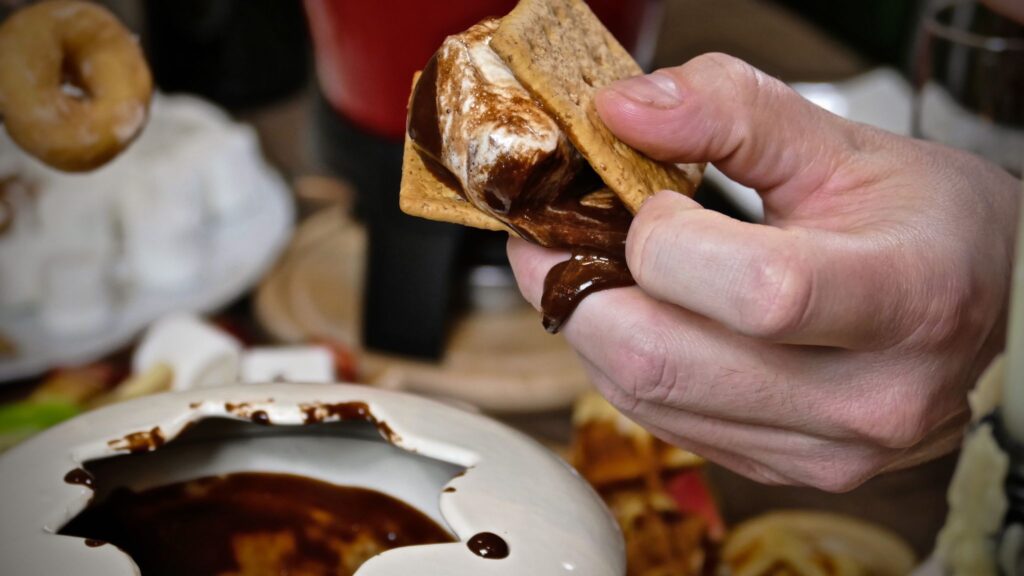 Chocolate Fondue
Step 1: Start by warming up heavy cream in your fondue pot until hot but not boiling.
Step 2: Remove the pot from the heat and add chopped chocolate pieces to the warm cream. The residual heat should be enough to melt the chocolate.
Step 3: Stir regularly until the chocolate has completely melted and mixed well with the cream. Add in your choice of liqueur or other flavorings at this point and mix until evenly distributed.
Remember, chocolate should be melted slowly over low heat, as it can easily seize and become grainy if exposed to high heat or water.
In both cases, using a well-designed fondue set-up can greatly simplify the entire process and provide optimal heating. Fondue Vancouver offers a top-notch Fondue Set Up with a perfect balance between design and functionality to ensure your fondue preparation process goes as smoothly as possible.
You've made it through the ingredient selection and preparation steps. The enticing aroma of melting cheese and chocolate wafts through the air. Now, how can you ensure that your fondue night becomes an engaging and memorable social event? That's what we'll dive into next.
Making Your Fondue Night Interactive 
Hosting a fondue night is not just about the delicious food; it's about the social interactions, the laughter, the camaraderie. Ensuring the evening remains lively and engaging is paramount for the true fondue experience. Below, we delve into a few ways to make hosting your fondue night interactive and entertaining, in true Swiss style.
Social Bonding to Savory Bites
Given the shared nature of fondue, it naturally brings people closer. The "one-pot" setup encourages everyone to participate and interact as they cook and enjoy their bites simultaneously. Encourage your guests to share fun stories or interesting facts about themselves as they swirl their skewered ingredients in the pot.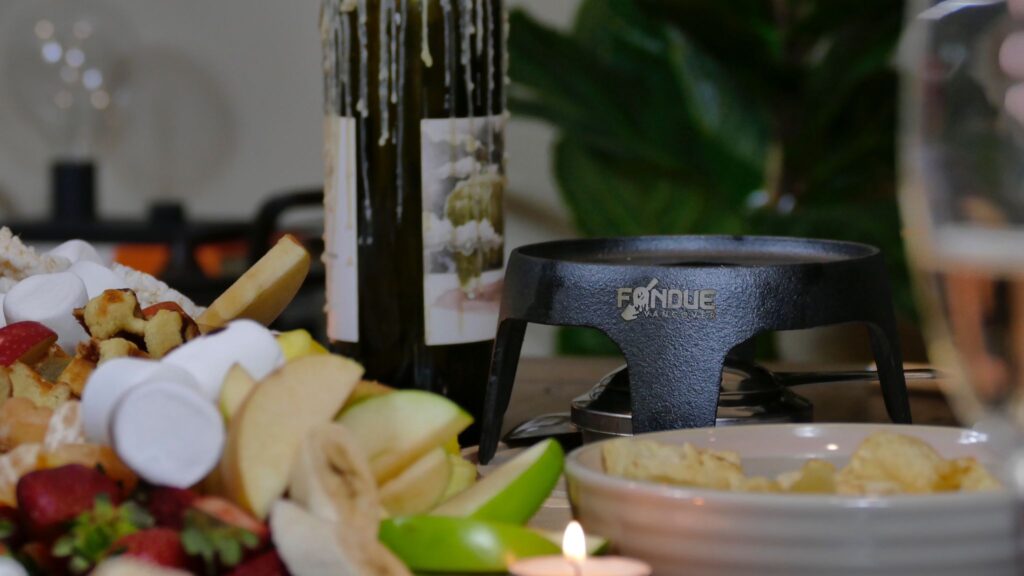 FUN FONDUE RULES
Part of the charm of a fondue nights are the playfully strict rules that accompany the dipping. Implementing a few of these can bring a hilarious twist to the night. For instance, you could state a rule that if someone's dipped item falls off their fork into the pot, they owe a round of drinks or must perform a fun challenge
Transform your fondue night into a game night to double the fun. You can introduce board games or card games to the mix while everyone continues to enjoy their fondue. Better yet, why not play "The Game of Fondue"? This is an exclusive game concept from Fondue Vancouver, designed to level-up the excitement of your fondue experience. This makes for unforgettable Date Nights Ideas that your guests will talk about for days.
These tips should help transform your fondue night into an engaging social event. Remember, it's all about making long-lasting memories, one dip at a time. Now that you have the perfect recipe for an interactive and fun night. Let's explore how you can create a Fondue Nights experience at home.
Setting the scene for a romantic date night
The magic of fondue not only lies in the flow of melted cheese and chocolate but in the ambiance it creates. There are several ways you can set the scene for a mesmerizing Romantic Date Night at home. Transform your home into a cozy, intimate haven to cherish precious moments with your loved one.
Lighting: A Warm Glow to Set the Mood
Dim the overhead lights and let flickering candles take center stage, casting a warm, intimate glow around the room. Candles are the staple of a romantic setting, but an added benefit is that they also help keep your fondue pot warm. Opt for unscented candles to ensure the aroma from your fondue remains the star of the show.
Delightful Decorations: Whimsical and Charming
Incorporate delicate floral arrangements to add a touch of elegance and sophistication. Red roses, often associated with love and passion, are a perfect choice for romantic date nights. Simple table linen or a table runner, combined with elegant dinnerware, will elevate the experience and transform your table into a luxurious space.
Music: Sweet Serenades for an Enchanted Evening
Create a playlist with soft, soothing melodies to accompany your gastronomical journey. Your choice of music can vary depending on your preferences, be it jazz, classical, or contemporary love songs. Customize your playlist so it reflects your unique bond and memories with your partner.
Setup: Cozy Comforts for Two
Choose a cozy spot in your home to host your fondue night. A coffee table near a fireplace, a beautiful patio under the stars can all serve as ideal locations. Set out comfortable seating and cushions that invite you and your partner to relax, linger, and savor the ambiance.
In conclusion, as you can see, hosting your own fondue night at home can be an unforgettable experience. By paying careful attention to the ambiance, decorations, lighting, music, and setup, you'll create an exquisitely intimate evening that will live on in your memories for a lifetime.
Ready to host your own fondue night and sweep your loved one off their feet? Order from Fondue Vancouver today and let the melting begin